I'm going to make a broad statement, in hopes that many of you are in agreement or that can relate to on some level.
Most people DON'T understand blogging.
More specifically HUSBANDS DON'T understand blogging.
I've been blogging for close to four years now and over the last couple years, I think Bryan has really come around to what blogging means to me. I believe he now knows this is more than a hobby for me, and is more like an outlet for me to express myself without having to bitch and moan to him constantly.
He occasionally humors me and even participates in some blog shenanigans and guest posts as well.
But there are a couple things that B just can't hop on board with.
So I bring to you today...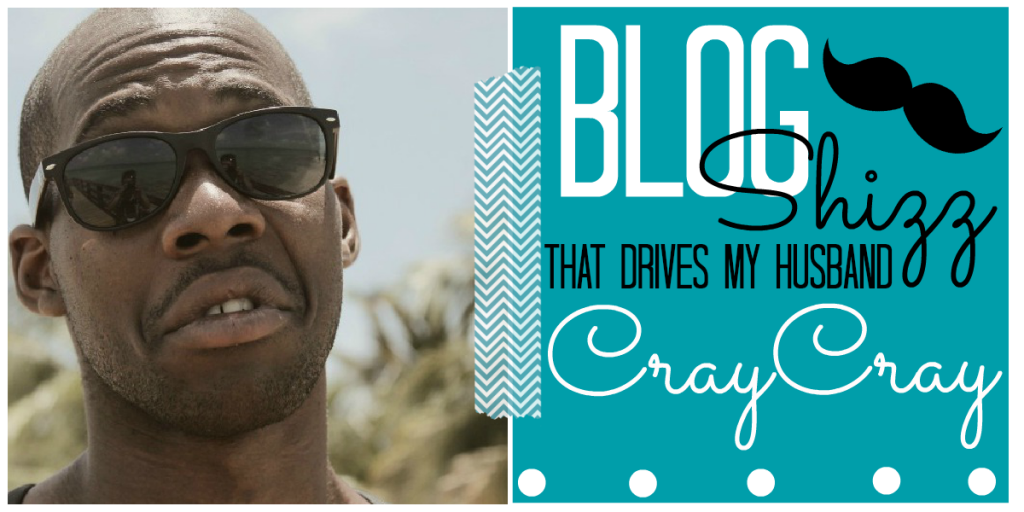 The small things that us bloggers participate in and don't think twice about may give our hubs a little pause...let's see if yours might agree.
You have to admit us bloggers have our own language and to the outsider, some of the stuff we say might sound ridiculous. Words that that Bry needs constant vocab lessons on...
- Coding - Cray Cray - Bee Tee Dubs (I've had to tell him multiple times that it means By The Way) - Totes - Amazeballs - FTR - SMH -
- If I # anything in a text message. Being that B doesn't have Twitter (that's another one), he doesn't 'get' the whole hashtag to further your point concept. I sometimes forget this and homeboy is lost in the sauce then.
Please don't think I use all of these in my everyday conversations, but I can openly admit that I have left some of them slip IRL that made my husband look at me sideways.
Maybe B is behind on the times, or maybe he is one of many husbands....but dude does not get the whole hype that is Twitter. Maybe it's us just being girls, wanting to gossip and BS all day with our girlfriends, and have that immediate reaction. But updating our everyday moves to pretty much strangers, boggles his mind. He sits back and laughs as I 'twit' (what he calls it) with my blog friends but you will never see an account in B's name. I don't think he would know what to do with a @ symbol.
Pretty much on the same page as Twitter, as in 'Why do you take pictures of errrrrrryyyythingggg...?'
The one that drives him batty though, is the whole taking pictures of food trend...
When we're out in a restaurant and try to take a picture of our meal, I'm met usually with a 'No.No.No.' and that is why, I've become quite the master of the I'mjustcheckingmyphonebutactuallytakingapictureandIturnedthesoundoffsoyoucanttell shots.
If it's my food and drinks, he really doesn't make that big of a deal but B is a hungry man, and the last thing he wants to do is wait to eat while I get the 'perfect' shot with my iPhone. He humors me sometimes, but most times, usually not. : )
Back before I reevaluated my blogging and real life balance, I used to get really anxious if I didn't catch up with my favorite blogs or answer emails or do 'blog stuff' in a timely manner. This drove B insane. He couldn't understand why I would get so upset about an online activity and not be as invested into our real life. This is one of the things I'm glad he opened my eyes up to but yet was one of his biggest pet peeves.
I now try to schedule my posts for the week over the weekend (Saturday or Sunday morning) and catch up on all my blog reading on Fridays that I am not working overtime. If you don't see me in your comments in awhile, I am probably working and will hopefully be back in the blog world in a bit. I'm sure you all don't miss my face that much.
Though Bryan supports me fully in my blogging endeavors, I know there are times when he wishes I never picked up this hobby. I'm sure he longs for the days when parts of our lives weren't documented and shared for all the interwebs to read and when he got a substantial uninterrupted time with his wifey. On the other hand, I know that in some small way, he is glad I have this online journal. Without this, we wouldn't be able to easily recollect our first years together through our apartment, our time in FL, our move, and pretty much aspects of our lives together we would miss the little memories of.
Will he ever really get it and accept it?!?
Probably not.
But hopefully, he'll love me regardless and just maybe come to terms with this crazy little thing called blogging. Because you know damn well, I'm not stopping anytime soon : )
Love you Boob.
What blogging shizz drives your husband or boyrfriend cray cray?!?
Misery loves company, right?!?